Final Table Interview: Melissa Burr
Nivel 25 : 30,000-60,000, 0 ante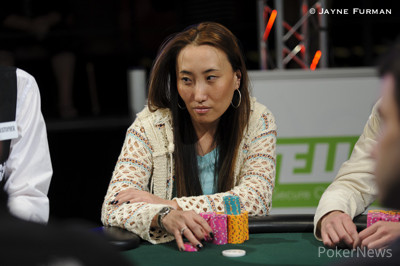 Melissa Burr is a well-respected mixed-game cash player from Atlantic City who is gearing up for an unusually busy schedule of tournaments in Las Vegas this summer. Today's final table marks her first ever at the World Series of Poker, and she's also secured only her second WSOP cash.
We caught up with Melissa as the players went to break to discuss her road to the final table and her plans for the rest of the summer.
PokerNews: Congratulations on your final table. Is Omaha high/low one of your best games?
Melissa Burr: Yes and limit hold'em and stud eight or better.
How is playing tournament Omaha high/low different than a cash game?
The chips have a different value. Tournament play is about surviving. In cash games, you can rebuy, they never tell you that you have to leave. In tournaments the value of the chips go up and you have just one chance.
Do you prefer cash games or tournaments?
I prefer cash. But this is the World Series and the fields are large and it's very prestigious to win a bracelet. I hope I win one someday.
This event always draws such a tough field. What's your game plan?
The blinds are so high and it eliminates a little bit of the playing. Everyone is down to ten big blinds, so your strategy is all about preflop selection for me and hope I hit the flop.
What's your schedule for the summer? Are you playing a lot of mixed game events?
The $10K H.O.R.S.E., Limit Hold'Em, Stud Eight or Better, Omaha and The Main Event. I just started playing no limit last year. And I have done OK. A lot of min cashes. And I will also play all the smaller events. Probably 10-15 events plus some cash games too.
So you're here all summer?
Yes. I am here all summer. Unfortunately, I have to go home relatively soon for a funeral.
So sorry to hear that.
My grandmother passed away today. The timing of it is a little awkward but the reality is this is the only way she could watch me play poker at a final table, maybe it was meant to be. I'd like to think that is what happened.
We want to extend our sincerest condolences to Melissa and her family during this difficult time.