No-Limit 2-7 Draw Lowball Strategy with Bracelet Winner Larry Wright
Nivel 17 : 3,000/6,000, 1,500 ante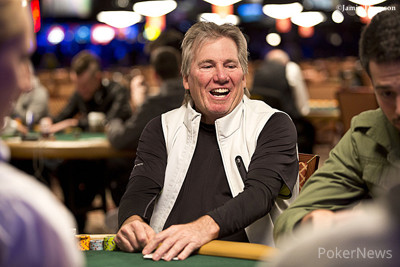 Larry Wright is no stranger to the late stages of no-limit 2-7 lowball tournaments. In 2012 he took down the $1,500 No-Limit 2-7 Draw Lowball event, defeating 284 players including a stacked final table with Brandon Cantu, Andrew Lichtenberger, Michael "The Grinder" Mizrachi and Erick Lindgren.
Last year, PokerNews had a chance to chat with Wright to discuss a few concepts of the game. Check out some of his advice about bluffing, good drawing hands, calculating odds, and more.
What is an example of a good drawing hand?
When I am drawing, I want a seven and a deuce in my hand, and I like to know which cards I am throwing away. If I have a pair of sevens or a pair of deuces, then I know I am drawing real live. So the seven-deuce in my hand is very important, but probably more important than that is position. You can raise on the button with a much bigger hand and wait and see what the small and big blind do. That's how I've been playing [in Event #43]; playing position, position, position.
Does your starting range of hands change as you get closer to the button?
It does change, but it depends how many chips you have. If you have a lot of chips, then my range opens wide. I will reraise with some pairs in my hand if I have a pair of fours, deuces, or sevens in my hand.
Is there any fundamental strategy in this game or is it more luck of the draw?
I'm old school. I saw it all day long, players who raise under the gun, draw one card, and bet. Players tend to play as if they are playing no-limit poker. This game is important to play in position. The button is the most powerful weapon. There is no knowledge other than what you have in your hand and a player's tendencies. Playing someone out of position is very hard on a drawing hand. On a pat hand it doesn't really matter where you play from though.
What is one of the biggest mistakes you see opponents make in this game?
Over-betting with a jack-low. I also see a lot of players drawing with a possibility of making a straight with their hand. They tend to draw and catch the straight. I see that a lot, actually.
Check out the full interview at PokerNews.com.