"I'm Not Classy"
Nivel 22 : 6,000/12,000, 2,000 ante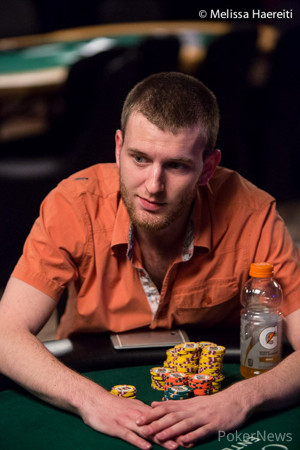 In the last hand of the level a heated hand went down between Vladimir Geshkenbein and Phil Hellmuth.
It began when Hellmuth opened for 37,000 from the cutoff and Davidi Kitai called from the small blind.
"Well, time again," Geshkenbein said as he reached for a toy space gun he brought with him. "All In."
Geshkenbein then fired the gun, which makes various noises. He and Hellmuth had sparred before, and Hellmuth asked for a count. It was 252,000, and Hellmuth said, "Call." Kitai folded.
"What do you have?" Geshkenbein asked.
"Ace-three," Hellmuth said and tabled the


.
"You're good," Geshkenbein said sheepishly. He waited a few seconds and then slowrolled Hellmuth with the


. Geshkenbein continued to rib Hellmuth as the flop came down


. The

turn gave the Russian pause as Hellmuth picked up an open-ended straight draw, but it didn't come in as the

blanked on the river.
"Oh no, Phil," Geshkenbein continued.
"You gotta show some class when you win one, kid," a clearly annoyed Hellmuth said.
"I'm not classy," Geshkenbein said as he continued to taunt Hellmuth.
"I'm going to bust you. I promise you that. Look me in the eyes, I'm going to bust you," Hellmuth said. There is certainly no love lost between these two players.