Pre-Dinner Interview With Chip Leader Davidi Kitai
Nivel 26 : 15,000/30,000, 5,000 ante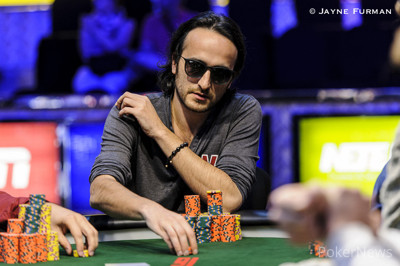 We caught up with Davidi Kitai as he prepared for the dinner break to see how the two-time World Series of Poker bracelet winner, and owner of poker's coveted Triple Crown, has managed to accumulate such massive stacks on each day of the tournament. And of course, we couldn't resist asking the proud Belgian how it felt to be called a "crazy Frenchman" by none other than the "Poker Brat" himself Phil Hellmuth.
PokerNews: Davidi, you seem to be on a tear in this tournament, finishing Day 1 in the top five on the leaderboard, bagging the second-largest stack after Day 2, and entering the final table with more than a million chips separating you from your closest competitor. Now, as you head off to dinner, you've built a castle of 4,695,000, while none of your four remaining opponents even has a million. How have you been able to consistently build such an impressive stack?
David Kitai: I started the day like second in chips, so I started with a good stack, and everything went well. I had Phil Hellmuth on my right and we play many pots together, and I don't know, I didn't lose many pots today. So I ran good, I played good, and that's really it.
PokerNews: Speaking of Phil, he had an interesting quote earlier in the day after you three-bet him out of yet another pot. He said "crazy Frenchman is going to cost me my 14th bracelet … You have no chance to win sir." Obviously, you're not from France, you're a proud Belgian. What would you like to say to Phil now that he's not here, perhaps a geography lesson or a primer on the great nation of Belgium?
I mean, the confusion happens often because of my sponsorship with Winamax, so it's not that big of a deal. The good part is that I realized he didn't know me from the beginning, so I started to three-bet more, and to play more aggressive against him.
PokerNews: You'd think the man with more bracelets than anybody else would know that you won your second bracelet just last year.
No he didn't know, he didn't know anything. He called me a "random French guy," so that was obviously a good point for my image.
PokerNews: You're back on the WSOP final table stage competing for a third bracelet, but both of those came in Pot-Limit Hold'em events. How does this experience compare — are you more comfortable now that you've been here before, or does the spotlight shine just as brightly every time you make it to the peak?
It's completely different actually because it's six-max. Most of the time I prefer six-max; the game has more aggression and is more fun as well.