Event #16: $1,500 Limit 2-7 Triple Draw Lowball
Zilele: 2
Event #16: $1,500 Limit 2-7 Triple Draw Lowball
Ziua 2 început
| Table | Seat | Player | Chips |
| --- | --- | --- | --- |
| 349 | 1 | Mike Leah | 91,800 |
| 349 | 2 | Brant Hale | 47,400 |
| 349 | 3 | Christopher McHugh | 22,900 |
| 349 | 4 | Jeet Shetty | 51,900 |
| 349 | 5 | Shunjiro Uchida | 10,300 |
| 349 | 6 | Bill Chen | 29,100 |
| | | | |
| 350 | 1 | Nacho Barbero | 11,100 |
| 350 | 2 | Andrey Zaichenko | 33,500 |
| 350 | 3 | Stephen Chidwick | 35,700 |
| 350 | 4 | David Gee | 18,200 |
| 350 | 5 | Arnold Spee | 15,700 |
| 350 | 6 | --empty-- | -- |
| | | | |
| 351 | 1 | Dan Smith | 55,400 |
| 351 | 2 | Colin Wickersheim | 15,600 |
| 351 | 3 | Jason Mercier | 46,400 |
| 351 | 4 | Matthew Schultz | 36,900 |
| 351 | 5 | Michael Banducci | 14,600 |
| 351 | 6 | --empty-- | -- |
| | | | |
| 352 | 1 | Ben Yu | 39,500 |
| 352 | 2 | Ismael Bojang | 43,600 |
| 352 | 3 | --empty-- | -- |
| 352 | 4 | Zachary Richards | 18,900 |
| 352 | 5 | David Bell | 34,800 |
| 352 | 6 | Ronit Chamani | 5,000 |
| | | | |
| 356 | 1 | Scott Bohlman | 27,700 |
| 356 | 2 | David Baker | 10,000 |
| 356 | 3 | Christopher Kruk | 32,300 |
| 356 | 4 | Brandon Delnano | 39,300 |
| 356 | 5 | Rinat Shakirov | 23,000 |
| 356 | 6 | Naoya Kihara | 36,500 |
| | | | |
| 357 | 1 | Shane Douglas | 24,200 |
| 357 | 2 | Frank Athey | 44,800 |
| 357 | 3 | Harvey Cobaugh | 4,800 |
| 357 | 4 | Kevin Iacofano | 10,400 |
| 357 | 5 | Mo Fathipour | 27,400 |
| 357 | 6 | Todd Bui | 54,500 |
| | | | |
| 358 | 1 | Daniel Idema | 34,000 |
| 358 | 2 | Can Kim Hua | 10,500 |
| 358 | 3 | Michael Gathy | 20,000 |
| 358 | 4 | Aaron Steury | 40,700 |
| 358 | 5 | Vladimir Shchemelev | 35,700 |
| 358 | 6 | Braden Murphy | 16,000 |
| | | | |
| 362 | 1 | Brian Tate | 90,000 |
| 362 | 2 | Barry Woods | 9,700 |
| 362 | 3 | Joseph Cheong | 18,100 |
| 362 | 4 | Brett Bader | 20,300 |
| 362 | 5 | Hanh Tran | 55,400 |
| 362 | 6 | Don Nguyen | 11,300 |
| | | | |
| 363 | 1 | Catherine Dever | 18,600 |
| 363 | 2 | Dan Kelly | 13,100 |
| 363 | 3 | Todd Brunson | 20,100 |
| 363 | 4 | Tom Franklin | 70,000 |
| 363 | 5 | Layne Flack | 34,400 |
| 363 | 6 | Jeff Siegal | 36,300 |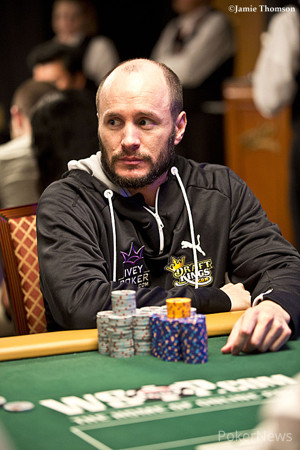 Welcome to our ongoing coverage of the 2014 World Series of Poker! Today marks the second day of Event #16: $1,500 Limit 2-7 Triple Draw. The final 54 players return today with Mike Leah holding a solid lead over the rest of the field. Leah holds 91,800 in chips coming into the day.
Yesterday saw a grand total of 348 players hit the felt with the dreams of becoming the next World Series of Poker champion. Today, each returning player has one immediate goal on their mind: make the money. The top 36 players will find a payday and will each be guaranteed at least $2,767 in prize money. The field will attempt to play down to a final table today but is scheduled to play ten full levels if that does not occur.
Other notable stacks returning for the day belong to Tom Franklin (70,000), Dan Smith (55,400), Jason Mercier (46,400), Ismael Bojang (43,600), Ben Yu (35,900), Naoya Kihara (36,500), Stephen Chidwick (35,700), Layne Flack (34,4000), Andrey Zaichenko (33,500), Bill Chen (29,100), Todd Brunson (20,100), and Joseph Cheong (18,100).
Play kicks off at 3 p.m. local time so be sure to stay tuned here for all of the latest updates!
Nivel: 11
Limite: 1,000/2,000
Ante: 0
Nivel 11 : 1,000/2,000, 0 ante
Cards are in the air for Event #16: $1,500 Limit 2-7 Triple Draw Lowball!
Nivel 11 : 1,000/2,000, 0 ante
We missed the action, but saw Nacho Barbero recently make his way to the rail. Barbero began the day fairly short on chips and was unable to get anything going.
Nivel 11 : 1,000/2,000, 0 ante
Mike Leah is off to a quick start and adding to his chip lead. Leah opened from under the gun and was called by Jeet Shetty on the button. Leah drew and Sheety drew 3. Leah bet, Sheety raised, leah three-bet and Sheety called. Leah stood pat, Sheety asked for one, Leah bet and SHeety called. Leah stood pat, Sheety swapped one again, and both players checked down. Leah turned over


and it was good.
Nivel 11 : 1,000/2,000, 0 ante
Scott Bohlman cut out a raise from the button and Christopher Kruk made it three bets from the small blind. Action folded back to Bohlman and he tossed out a call. Kruk took two new cards at the draw and Bohlman opted for just one. Kruk checked, Bohlman bet, and Kruk tossed forward a call.
For the second draw, each player opted for one new card. Kruk came out firing with a bet and Bohlman called. Kruk stood pat for the last draw and Bohlman drew one. Both players checked the final betting round and Kruk fanned





. Bohlman mucked his cards and Kruk was pushed the pot.
Kruk now sits on about 38,000 in chips while Bohlman's stack has dropped to right around 20,000.
Nivel 11 : 1,000/2,000, 0 ante
Brian Tate opened from under the gun and Hanh Tran called in the small blind. Tran drew two and Tate drew one. Tran lead out and Tate called behind. Both players drew one, Tran bet, Tate called, bot players stood pat, checked it down and Tate showed


for the pot.
Nivel 11 : 1,000/2,000, 0 ante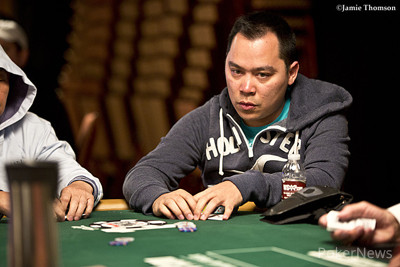 We missed the action but we're told Tran was the beneficiary of a four-way capped pot and tabled the nuts.