Tommy Hang Eliminated in 13th Place ($26,432)
Nivel 24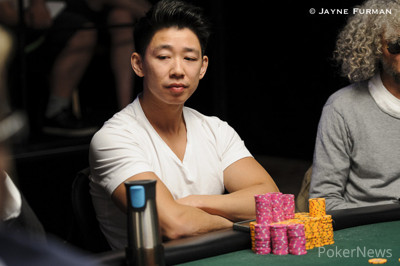 Razz
Goldman:


/



/


Hang:


/



/

After a series of bets, the short-stacked Tommy Hang found himself all in on sixth street against Lee Goldman. Goldman instantly flipped over his seventh street card - a

- giving him a ten-nine low. Hang slowly squeezed his final card out.
"Oh god," said Hang. "It's a two-sided club. Either four or five of clubs. I'm fifty-fifty."
Hang took a breath, picked up his card, and slapped it on the table.
It was a the

, giving him three fours. Hang was eliminated in 13th place and Goldman picked up a pot that brings him up to 825,000 in chips.