Event #22: $10,000 H.O.R.S.E. Championship
Zilele: 2
Event #22: $10,000 H.O.R.S.E. Championship
Ziua 2 început
| Table | Seat | Player | Chips |
| --- | --- | --- | --- |
| 347 | 1 | Jose Paz-Gutierrez | 33,100 |
| 347 | 2 | Max Pescatori | 72,100 |
| 347 | 3 | David Baker | 11,600 |
| 347 | 4 | Jonathan Duhamel | 10,400 |
| 347 | 5 | Anthony Zinno | 48,500 |
| 347 | 6 | Eric Buchman | 53,100 |
| 347 | 7 | Phil Hellmuth | 100,900 |
| 347 | 8 | Lee Goldman | 57,800 |
| | | | |
| 348 | 1 | Dan Heimiller | 16,200 |
| 348 | 2 | Matt Vengrin | 34,700 |
| 348 | 3 | Mike Wattel | 33,300 |
| 348 | 4 | Huck Seed | 51,100 |
| 348 | 5 | Calvin Anderson | 85,700 |
| 348 | 6 | Mark Gregorich | 27,400 |
| 348 | 7 | Cory Zeidman | 95,500 |
| 348 | 8 | --empty-- | -- |
| | | | |
| 349 | 1 | --empty-- | -- |
| 349 | 2 | Jon Turner | 106,000 |
| 349 | 3 | Christopher Wallace | 18,700 |
| 349 | 4 | John Racener | 19,800 |
| 349 | 5 | John Cernuto | 40,600 |
| 349 | 6 | Randy Ohel | 39,500 |
| 349 | 7 | Phil Ivey | 52,800 |
| 349 | 8 | Owais Ahmed | 51,500 |
| | | | |
| 350 | 1 | Phil Laak | 7,900 |
| 350 | 2 | Kevin Iacofano | 67,600 |
| 350 | 3 | Andre Akkari | 9,300 |
| 350 | 4 | Brian Hastings | 57,500 |
| 350 | 5 | Vladimir Shchemelev | 104,600 |
| 350 | 6 | Zimnan Ziyard | 43,200 |
| 350 | 7 | Marco Johnson | 13,700 |
| 350 | 8 | Roland Israelashvili | 58,700 |
| | | | |
| 351 | 1 | Christopher Tryba | 51,200 |
| 351 | 2 | Josh Arieh | 81,200 |
| 351 | 3 | Greg Mueller | 121,400 |
| 351 | 4 | Mike Matusow | 58,500 |
| 351 | 5 | Steven Wolansky | 80,300 |
| 351 | 6 | Shirley Rosario | 65,300 |
| 351 | 7 | David Chiu | 52,700 |
| 351 | 8 | Andrey Zaichenko | 71,900 |
| | | | |
| 353 | 1 | Tommy Hang | 14,000 |
| 353 | 2 | --empty-- | -- |
| 353 | 3 | Sebastien Sabic | 80,100 |
| 353 | 4 | Richard Monroe | 62,200 |
| 353 | 6 | Mike Leah | 73,200 |
| 353 | 7 | Michael Moore | 10,400 |
| 353 | 8 | Scott Bohlman | 13,500 |
| | | | |
| 354 | 1 | David Benyamine | 81,300 |
| 354 | 2 | Francesco Barbaro | 108,500 |
| 354 | 3 | Alexander Kuzmin | 13,800 |
| 354 | 4 | Alex Dovzhenko | 60,300 |
| 354 | 5 | Jeff Lisandro | 62,900 |
| 354 | 6 | Yehuda Buchalter | 46,000 |
| 354 | 7 | Matt Grapenthien | 36,500 |
| 354 | 8 | Jan Suchanek | 27,700 |
| | | | |
| 355 | 1 | Barry Greenstein | 30,500 |
| 355 | 2 | Ray Dehkharghani | 20,500 |
| 355 | 3 | Daniel Idema | 70,000 |
| 355 | 4 | Jennifer Harman | 57,700 |
| 355 | 5 | David Bakes Baker | 39,100 |
| 355 | 6 | Joe Cassidy | 28,600 |
| 355 | 7 | Ali Eslami | 12,100 |
| 355 | 8 | Fabrice Soulier | 33,600 |
| | | | |
| 356 | 1 | Sergey Altbregin | 37,200 |
| 356 | 2 | Bruce Yamron | 30,000 |
| 356 | 3 | Naoya Kihara | 24,000 |
| 356 | 4 | Joseph Weinberger | 63,400 |
| 356 | 5 | Doyle Brunson | 19,000 |
| 356 | 6 | Bryn Kenney | 55,000 |
| 356 | 7 | Georgios Sotiropoulos | 24,100 |
| 356 | 8 | Tuan Le | 92,500 |
| | | | |
| 357 | 1 | Michael Mizrachi | 98,200 |
| 357 | 2 | Richard Sklar | 55,200 |
| 357 | 3 | Tony Hartmann | 19,700 |
| 357 | 4 | Jeff Madsen | 129,200 |
| 357 | 5 | Bertrand Grospellier | 59,800 |
| 357 | 6 | --Empty-- | |
| 357 | 7 | David Singer | 34,300 |
| 357 | 8 | Bruno Fitoussi | 33,800 |
| | | | |
| 358 | 1 | Bill Chen | 61,800 |
| 358 | 2 | Daniel Negreanu | 45,600 |
| 358 | 3 | Alex Bilokur | 16,900 |
| 358 | 4 | Tom Franklin | 39,600 |
| 358 | 5 | Todd Barlow | 57,900 |
| 358 | 6 | Abe Mosseri | 74,800 |
| 358 | 7 | Brian Tate | 26,400 |
| 358 | 8 | Paul Volpe | 56,400 |
| | | | |
| 359 | 1 | Kevin Song | 57,100 |
| 359 | 2 | Paul Degiulio | 28,800 |
| 359 | 3 | Tom Koral | 26,400 |
| 359 | 4 | Ben Yu | 9,600 |
| 359 | 5 | Nicholas Kost | 36,400 |
| 359 | 6 | Erick Lindgren | 105,600 |
| 359 | 7 | Ivan Soshnikov | 87,800 |
| 359 | 8 | --empty-- | -- |
| | | | |
| 360 | 1 | Frank Kassela | 37,800 |
| 360 | 2 | Richard Ashby | 61,000 |
| 360 | 3 | Brock Parker | 71,600 |
| 360 | 4 | Nick Schulman | 31,700 |
| 360 | 5 | Jared Jaffee | 28,600 |
| 360 | 6 | Pat Pezzin | 38,100 |
| 360 | 7 | Glenn Cozen | 76,000 |
| 360 | 8 | Matthew Wood | 41,100 |
| | | | |
| 361 | 1 | Ryan Miller | 62,900 |
| 361 | 2 | --Empty-- | |
| 361 | 3 | Tony Cousineau | 41,000 |
| 361 | 4 | Scott Abrams | 17,000 |
| 361 | 5 | Jeremy Ausmus | 52,200 |
| 361 | 6 | Chris Klodnicki | 30,700 |
| 361 | 7 | Sergey Rybachenko | 85,900 |
| 361 | 8 | John Rogers | 41,300 |
| | | | |
| 362 | 1 | Sabyl Landrum | 36,300 |
| 362 | 2 | Eric Rodawig | 112,000 |
| 362 | 3 | Shawn Buchanan | 74,400 |
| 362 | 4 | Jim McCrink | 5,200 |
| 362 | 5 | Mike Sexton | 17,400 |
| 362 | 6 | Sebastian Saffari | 29,300 |
| 362 | 7 | Scotty Nguyen | 80,900 |
| 362 | 8 | Benjamin Lazer | 57,900 |
| | | | |
| 363 | 1 | David Bach | 23,200 |
| 363 | 2 | Frankie O'Dell | 41,000 |
| 363 | 3 | Chino Rheem | 61,500 |
| 363 | 4 | Justin Bonomo | 89,900 |
| 363 | 5 | Don Nguyen | 30,500 |
| 363 | 6 | Mike Watson | 70,100 |
| 363 | 7 | Shane Douglas | 20,300 |
| 363 | 8 | Jasper Lee | 49,000 |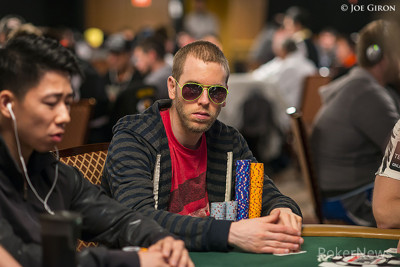 Welcome back to our ongoing coverage of the 2014 World Series of Poker! Three-time bracelet winner and 2006 WSOP Player of the Year leads the returning 121 players with 129,200 in chips.
Madsen will be joined on the felt by many of poker's elite today. Two-time bracelet winner Greg Mueller is right on his heels with 121,400. Eric Rodawig rounds out the top three chip counts heading into the day with 112,000.
Yesterday's play saw exactly 200 entrants hit the felt with the hopes of becoming the next World Series of Poker champion. Unfortunately for more than a third of them, that dream would have to wait until the next event. Players like John Monnette, Eli Elezra, Stephen Chidwick, Dan Kelly, Brett Richey, Jason Mercier, Layne Flack, Scott Clements, and David "Bakes" Baker were all eliminated before the players bagged up for the end of the night.
While these players fell, others thrived throughout the first ten levels of the tournament. Just a handful of the notables returning include Jon Turner (106,000), Erick Lindgren (105,600), Michael Mizrachi (98,200), Justin Bonomo (89,800), Sergey Rybachenko (85,900), Josh Arieh (81,200), Scotty Nguyen (80,900), Abe Mosseri (74,800), Andrey Zaichenko (71,900), Bertrand "ElkY" Grospellier (59,800), Mike Matusow (58,500), and many more.
Also returning with a top-ten stack is none other than the PokerBrat himself, Phil Hellmuth. Hellmuth bagged 100,900 to close out Day 1 and will be searching for his third deep run of the series on the quest for his 14th WSOP bracelet.
Play kicks off at 2 p.m. local time, so be sure to stay tuned to PokerNews as we play down to and through the money bubble today!
Nivel: 11
Hold'em - Omaha 8 600/1,200 blinds 1,200-2,400 limits
Razz - Stud - Stud 8 300 ante 300 BI 1,200-2,400 limits
The cards are in the air for the second day of the 2014 $10,000 H.O.R.S.E. Championship! In order to make the third and final day of this event players will need survive 10 levels of play.
The first game in today's rotation is razz.
The final 24 players will make the money in this event with the minimum cash $18,254.
Razz
Mike Wattel completed on third street and Huck Seed, on his immediate left, made the call. On fourth street Wattel bet and Seed called.
"You like your hand, huh?" Seed said with a smile to his opponent right before both their hands paired on the next street.
On fifth Seed check-called a bet before leading himself on sixth. Wattel looked back down at his cards and called. Seed checked on seventh and Wattel scrambled his cards together as he had missed his draw.
Wattel: (X-X) /



/ (X)
Seed: (X-X) /




/ (X)
Seed showed



for an eight-seven low and he raked in the pot.
Jucător
Fise
Progres

Huck Seed

75,000

23,900

Mike Wattel

27,000

-6,300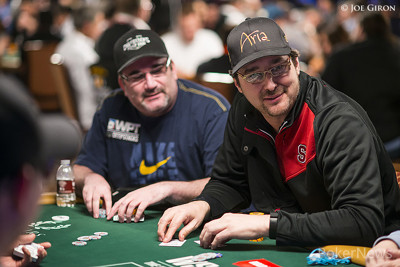 Stud
David "ODB" Baker completed on third street and Phil Hellmuth put in a raise after which Baker made the call. On fourth street Baker called a bet from Hellmuth and the same thing repeated itself on fifth. Sixth street turned the tables and Baker checked to Hellmuth who bet again. Baker called and checked on seventh street.
Without looking at his seventh card Hellmuth bet and Baker quickly responded with a check-raise. Now Hellmuth grabbed his final card and peeked at it before putting in the call.
Hellmuth: (X-X) /



/ (X)
Baker: (X-X) /



/ (X)
"Straight to the eight," Baker said as he turned over



.
Hellmuth mucked his cards and Baker said, "There's nothing I can do about that one, Phil."
"Nice hand buddy," Hellmuth responded sounding like he always does after losing a pot.
"What I could've done was fill up," Hellmuth then added, as most of the players started laughing.
Hellmuth lost a little at the start of today but he's still sitting on a good stack. Meanwhile Baker's started an upwards trend he very much needed after starting the day with very little chips.
Jucător
Fise
Progres

Phil Hellmuth

90,000

-10,900

David "ODB" Baker

38,000

38,000
Stud
Tryba:


/





Roasrio:


/




Chiu:


/




We picked up with the action to find Chris Tryba complete and earn calls from Shirley Rosario and David Chiu. On fourth street,Tryba fired out a bet and found call a call just from Chiu. On fifth street, Tryba received a queen and had four cards showing to a Broadway straight. He shot out another bet and Chiu thought for a moment before Tryba began with the table talk.
"It's stud-eight!" chimed Tryba with a smile. Chiu did not crack a smile, however, as he opted to fold his hand and Tryba was pushed the pot.
Tryba is now sitting on about 53,000 while Chiu has dropped to 45,000.
Stud 8
David "ODB" Baker was the bring in and Jonathan Duhamel completed. Action folded over to Eric Buchman and he made it two bets to go. Phil Hellmuth, with the

showing, went into the tank. About 30 seconds passed before Hellmuth picked up his cards and tossed them into the muck. It came back around to the short-stacked Duhamel who three-bet the action. Buchman called.
Duhmael paired his fives on fourth and shot out another bet. Buchman called and Duhmael moved all in for less than another big bet on fifth. Buchman called it, the hands were tabled, and the remaining streets were dealt.
Duhamel:


/




/


Buchman:


/




/

Buchman took a quick look at his seventh-street card and then mucked his hand, allowing Duhamel to scoop with pot with his trip fives. The 2010 WSOP Main Event champion is now sitting around 16,000 in chips.
Stud 8
Sergey Rybachenko and Chris Klodnicki just played a hand against each other and while the latter won the former also trends up in the chip counts. Rybachenko's off to a good start as he's up about 30,000 since the start despite losing the following hand.
On sixth street Rybachenko check-called a bet and the same thing happened on seventh.
Rybachenko: (X-X) /




/ (X)
Klodnicki: (X-X) /




/ (X)
"Aces up," Klodnicki said and his opponent immediately mucked his seven cards.
In order to proof his hand strength Klodnicki did table


and he raked in this pot.