Jang Won Lee Eliminated in 24th Place ($6,178)
Nivel 19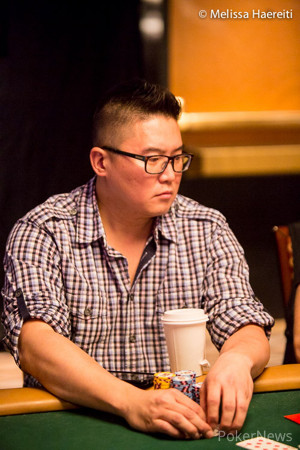 Omaha 8
Jang Won Lee's demise all began in what David "ODB" Baker would call the dumbest pot in the history of H.O.R.S.E.
Pretty sure I just lost the dumbest pot in the history of horse final 3 tables. Pot was massive I still have 90k
Follow @audavidb
It started with Michele Limongi raising first to act. Baker would make it three bets and Jang Won Lee would make it four bets. Limongi and Baker would both call and we would see a flop of



. Lee would bet and get called by both Limongi and Baker. The turn was the

and this time Lee would check. Limongi checked as well and called after Baker bet with Lee folding and leaving himself with just 3,000 behind. The river was the

and both players checked. Limongi turned over




for a rivered spade flush. Baker shook his head and muttered under his breath "he's been doing that all day."
The very next hand Joe Cassidy would raise, Lee would call off his last 3,000 and Limongi would call as well. Lee smiled at the action and said "look at that... yum, yum baby." Before the dealer put out the flop, Limongi said in a thick accent "I check dark." The flop came



and Cassidy said "I guess I bet light." Limongi smiled and said "I call in the shade" as he made the call. The turn was the

and Cassidy checked and said "I don't like it when your in the shade, it's creepy." Limongi said "I check also" and we were off to the river. Both players checked the

turned over by the dealer and Lee would survive with bottom two pair with




for the high end while Limongi would take the remainder of the pot with




.
The next hand saw five players seeing the flop including Lee and Limongi. Shannon Petluck would make bets on the flop and turn on the




board and find one caller in Limongi. The river was the

and Limongi said "I bet" and after a few moments told Lee "you can go home." That was enough to get Petluck to fold and Limongi turned over




for the nut spade flush and with that Lee was eliminated in 24th place.