A Champion Shall Be Crowned in Event #29: $2,500 No-Limit Hold'em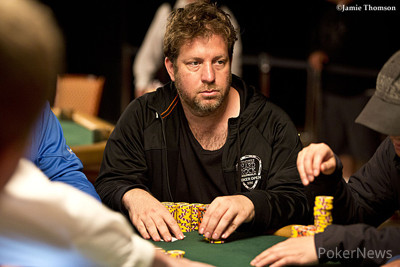 Two days ago, Event #29: $2,500 No-Limit Hold'em of the 2014 World Series of Poker began with 1,165 players, which created a prize pool of $2,650,375. Today just 20 of them remain in contention for the gold bracelet and $536,768 first-place prize.
The man best positioned to make a run at the title is Jamie Armstrong, who ended Day 2 with a tournament-leading stack of 765,000. Hot on Armstrong's heels was Barry Hutter, who has been among the chip leaders since this tournament started. Hutter will begin Day 3 with 731,000 chips.
Other big stacks and notables included Chris Johnson (665,000), Sam Cohen (654,000), Rep Porter (463,000), Matt Salsberg (447,000), David Benefield, (355,000), Justin Oliver (284,000), and William Reynolds (223,000).
Action is set to get underway at 1 p.m. local time, which about an hour from now. The plan is to play down to a winner, and of course the PokerNews Live Reporting Team will be there every step of the way to bring you all the action and eliminations. Stay tuned to see who will be crowned the next bracelet winner of the 2014 WSOP!
| Table | Seat | Player | Chips |
| --- | --- | --- | --- |
| 446 | 1 | Chris Johnson | 665,000 |
| 446 | 2 | William Reynolds | 223,000 |
| 446 | 3 | Joseph Brattole | 181,000 |
| 446 | 4 | David Benefield | 432,000 |
| 446 | 5 | --empty-- | -- |
| 446 | 6 | --empty-- | -- |
| 446 | 7 | Thad Mcnulty | 520,000 |
| 446 | 8 | --empty-- | -- |
| 446 | 9 | Scott Davies | 474,000 |
| | | | |
| 449 | 1 | Andy Phan | 603,000 |
| 449 | 2 | --empty-- | -- |
| 449 | 3 | Jamie Armstrong | 765,000 |
| 449 | 4 | --empty-- | -- |
| 449 | 5 | Justin Kindred | 260,000 |
| 449 | 6 | Sam Cohen | 654,000 |
| 449 | 7 | Pierre Milan | 273,000 |
| 449 | 8 | Daniel Laming | 561,000 |
| 449 | 9 | Richard Kirsch | 315,000 |
| | | | |
| 450 | 1 | --empty-- | -- |
| 450 | 2 | Rep Porter | 463,000 |
| 450 | 3 | Matt Salsberg | 447,000 |
| 450 | 4 | Yong Lu | 474,000 |
| 450 | 5 | Justin Oliver | 284,000 |
| 450 | 6 | Marius Pospiech | 249,000 |
| 450 | 7 | Grayson Nichols | 167,000 |
| 450 | 8 | --empty-- | -- |
| 450 | 9 | Barry Hutter | 731,000 |