Event #34: $1,500 Seven-Card Stud
Zilele: 1
Event #34: $1,500 Seven-Card Stud
Ziua 1 terminat
Nivel 10 : 800/1,600, 0 ante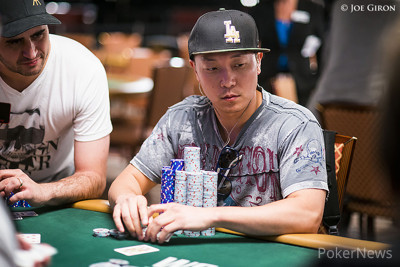 The first day of Event #34: $1,500 Seven-Card Stud has wrapped up play and it is Steve Sung who has come out on top of the chip counts after winning a big pot late in the evening with a full house. A total of 345 players came out to try their hand at the only Seven-Card Stud Hi tournament of the year at the 2014 WSOP. Sung would end play with a stack of 69,000 and he was followed closely by Will Thompson (67,500), and recent New Orleans WSOP Circuit Main Event winner Bryan Campanello (63,300) who joked that he was "playing like a world champion."
Other notables to survive include Brian Hastings (58,500), John D'Agostino (55,100), Bryn Kenney (45,000), Marcel Luske (38,500), Daniel Negreanu (31,000), Cyndy Violette (30,000), Phil Laak (22,000), Robert Mizrachi (17,600), and Barry Greenstein (11,800). Two of the more interesting stories of the day were the tales of music mogul Steve Albini who would end the day with a healthy stack of 43,800 and 1983 Ladies' Seven Card Stud winner Carolyn Gardner who finds herself with a comfortable stack of 53,800.
Reigning champion of the 2013 $2,500 Seven-Card Stud tournament, David Chiu, was eliminated early on along with other notables that included Phil Ivey, Jeff Lisandro, Ted Forrest, Greg Mueller, Eli Elezra, Jeff Madsen, John Monnette, Bertrand Grospellier, Barbara Enright, and Fabrice Soulier.
The remaining 60 players will return at 2 p.m. later today with their eyes on the $118,785 first place prize. As always, PokerNews will be there to bring you all the coverage. Tune in and see who becomes the next Seven-Card Stud Champion!
Nivel 10 : 800/1,600, 0 ante
Jucător
Fise
Progres

Steve Sung

69,000

4,000

William Thompson

67,500

67,500

Bryan Campanello

63,300

31,300

Brian Hastings

58,500

46,000

John D'Agostino

55,100

23,100

Carolyn Gardner

53,800

4,800

Mallory Smith

45,100

45,100

Bryn Kenney

45,000

8,000

Steven Albini

43,800

43,800

James Nelson

42,700

42,700

Scott Bohlman

42,500

42,500

Nabih Helmi

40,600

40,600

Cyndy Violette

39,000

19,000

Marcel Luske

38,500

7,000

Vladimir Shchemelev

36,500

36,500

Aleksandr Denisov

32,900

32,900

Martin Sigel

31,900

31,900

Daniel Negreanu

31,000

-6,000

Farshad Ben Cohen

31,000

31,000

Stephen Chidwick

30,200

7,200

Barbara Lewis

27,500

27,500

Frank Athey

27,200

27,200

Sergey Rybachenko

26,800

26,800

Alex Kravchenko

26,600

-3,400

Filippos Stavrakis

25,000

25,000
Nivel 10 : 800/1,600, 0 ante
Nivel 10 : 800/1,600, 0 ante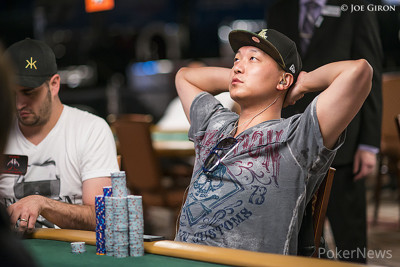 Steve Sung:


/




/


Opponent #1:


/




/


Opponent #2:


/




/

We got to the table with a massive pot sitting in the middle and Steve Sung led out for a bet on seventh street after his two opponents checked. They both called and would muck their hands when Sung turned over [KhTk3k] for threes full of kings. That pot brought Sung's stack to approximately 65,000 and to the top of the chip counts as play is coming to a close for the day.
Nivel 10 : 800/1,600, 0 ante
Bryan Campanello:


/





Ashly Butler:


/




Bryan Campanello completed and Ashly Butler raised. Campanello called. On fourth street Campanello would check-call Butler's bet. Fifth street would see the two check and on sixth street Campanello would bet. Butler folded and Campanello said "started with the best hand and ended with the best hand" as he turned over


for aces and queens. Butler laughed and Campanello stuck the needle in a little bit more by saying "playing like a world champion."
Nivel 10 : 800/1,600, 0 ante
Will Thompson is currently sitting with the biggest stack in the room at 66,000 in chips. Alexander Denisov looks to be in second with 53,000. We'll have chip leaders and notables from the end of the day after the players have bagged and tagged.
Jucător
Fise
Progres

Will Thompson

66,000

Alexander Denisov

53,000

Daniel Negreanu

37,000

5,400

John D'Agostino

32,000

-2,800

Marcel Luske

31,500

10,000

Alex Kravchenko

30,000

-4,100

Robert Mizrachi

26,000

-4,200

Steve Albini

25,000

1,600

Stephen Chidwick

23,000

15,000

Cyndy Violette

20,000

-8,300

Eric Buchman

19,000

6,800

Anthony Zinno

18,000

-1,500

Barry Greenstein

15,000

7,700

Todd Bui

12,800

-17,800

Brian Hastings

12,500

3,700

Bryan Campanello

10,000

100

Phil Laak

9,500

-3,700

Mel Judah

5,500

Max Pescatori

4,500

-5,800
Nivel 10 : 800/1,600, 0 ante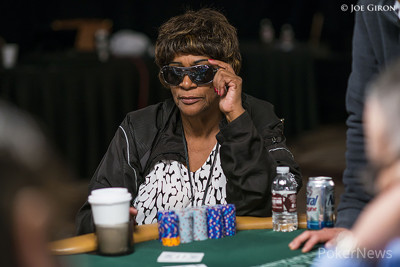 Back before no limit hold 'em became the game of choice for tournament poker, there was a Ladies' Seven Card Stud tournament at the WSOP. This event ran from 1977 through 1999 before it moved away from being strictly Seven Card Stud. The winner of this event in 1983 was none other than Carolyn Gardner who would take home $16,000 that day for her win.
Gardner is here having a good time, laughing it up with the players, and stacking their chips in the process. She has 49,000 in chips with a little less than an hour left to play. She's had plenty of deep runs in Stud tournaments so she has experience on her side.
Nivel: 10
Ante 200 Bring In 200
Completion 800 Limits 800/1600
Nivel 9 : 600/1,200, 0 ante
Seat 1:


/





Anthony Zinno:


/




- folded on sixth street
Daniel Negreanu:


/

- folded on fourth street
With an ace showing, Daniel Negreanu raised and was called by Anthony Zinno and the player in Seat 1 who had the bring in with the

. Negreanu would check-fold to Zinno's bet on fourth street but the player in Seat 1 was going to stick around. On fifth street, the player in Seat 1 led out for a bet and Zinno called. Zinno's opponent would bet again on sixth street.
"Are those all spades," asked the dealer in reference to Seat 1's hand. The dealer confirmed they were and Zinno quickly folded.
Jucător
Fise
Progres

Daniel Negreanu

31,600

14,800

Anthony Zinno

19,500

5,600