Aaron Schaff Eliminated in 2nd Place ($90,854)
Nivel 27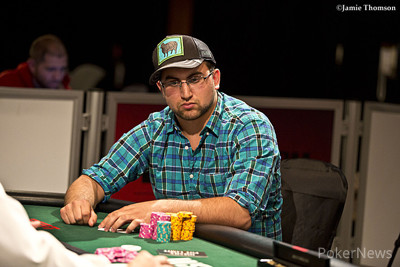 A-5 Triple Draw
Robert Mizrachi selected A-5 triple draw.
Aaron Schaff had the button and raised the action. Mizrachi quickly made it three bets to go and Schaff thought for a moment before moving out a call.
Mizrachi pulled two new cards and Schaff opted for just one. Mizrachi checked the next street and Schaff led out with a bet. Mizrachi instantly announced a raise and Schaff three-bet the action. Mizrachi four-bet and Schaff called all in.
Mizrachi stood pat on the second draw and Schaff pulled one. For the third draw, Mizrachi stood pat once more and Schaff pulled one final card. At that, the hands were tabled.
Mizrachi confidently rolled over





and Schaff tabled



.
"Drawing dead?!" said Mizrachi excitedly. Schaff was indeed drawing dead with his final card (which turned out to pair him up with the
). Mizrachi's rail then rushed the secondary feature stage, congratulating him on his second bracelet win.
Schaff became the runner-up and took home $90,854 in prize money.