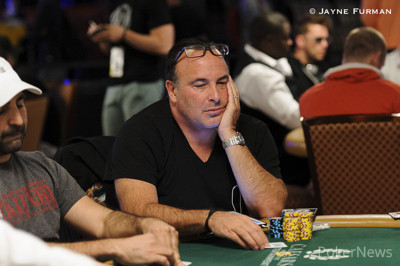 No-Limit Hold'em
We found Dan Shak betting 20,000 out of the big blind in a large pot that appeared have had multiple raises in preflop against Dylan Linde in the cutoff. The flop had come



, and Linde made the call. Linde called another 30,000 on the

turn, and Shak bet 35,000 when the board paired with the

. After a brief thinking period, Linde said he was all in, covering Shak's 44,000 more.
"So sick," Shak said. "You either have the other two aces, ace-king, or quads."
He continued tanking, muttering to himself about Linde's possible holdings. He put his head in his hands, covering his face, and finally, after about four minutes, he slid his cards to the dealer.