Seiver Does the Harlem Shakerchi
Nivel 13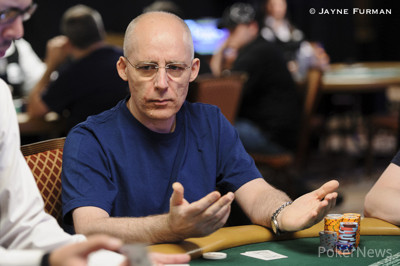 No-Limit Hold'em
We saw Talal Shakerchi exiting the tournament area, and by the time we made our way over to the table, the cards had been scooped up. Fortunately for us, Andy Bloch remembered a bit of the action.
According to him, the hand began when Scott Seiver limped from the cutoff and Bloch raised to 15,000 from the button. A short-stacked Shakerchi then moved all in for 16,000 from the big, both his opponents called, and it was off to the flop.
Bloch didn't specify, but summed the hand up by saying Seiver, who held


, ended up making a pair of eights on the turn. It proved good as Shakerchi's hand failed to top it. Thus ends Shakerchi's $50,000 Poker Players' Championship adventure.