Three-Quarters for Martin, Who Then Receives a Warning
Nivel 21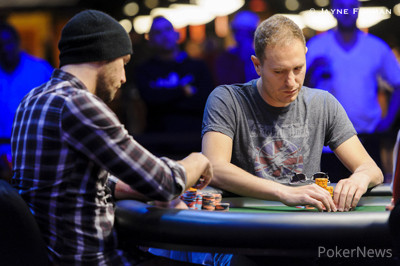 Omaha 8
Chun Lei Zhou raised on the button, Brandon Shack-Harris made it three bets out of the small blind, and Jesse Martin reraised to four bets in the big blind. Zhou and Shack-Harris both called.
The dealer fanned


, Shack-Harris checked, and Martin tossed out a bet. Zhou raised to two bets, Shack-Harris check-raised to three bets, and only Martin called.
The turn was the

, Martin called a bet from Shack-Harris, and the

completed the board. Shack-Harris led out, Martin called, and the hands were tabled.
Shack-Harris:



(Pair of queens and the nut low)
Martin:




(Pair of kings and the nut low)
Martin won three-quarters of the pot, but became a bit perturbed while the dealer was trying to split the pot. He started offering help and giving direction, but the tournament director intervened, telling Martin to allow the dealer to split the pot.
"It's easy," Martin said, continuing to disagree with the dealers' methods.
At this point other players started to chime in, and the tournament director silenced all of them. He then issued a warning to Martin, who took a deep breath to compose himself.
"I feel like you're scolding me," Martin told the tournament director.