Myung Busts Danzer
Nivel 4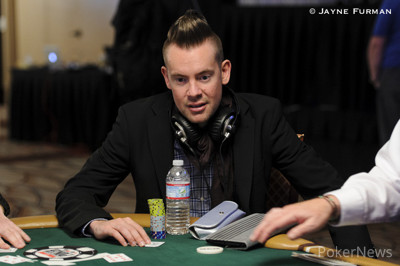 Stud 8
Danzer:


/




/


Myung:


/




/


Opponent:


/



/

We arrived on fourth street to see a short-stacked George Danzer first to act. He bet all in and found calls from John Myung and a third player. Action checked to Myung on fifth and he fired out into a side pot. His opponent called.
Myung paired eights on sixth, giving him first action. He bet once again and found a call from his opponent. He fired one last bet on seventh, but his opponent ultimately decided to fold his cards.
"Alright," said Danzer. "What do I need to beat?"
"Sixes-full," said Myung, showing


.
"I am drawing dead," deadpanned Danzer in reply.
Danzer was eliminated from play and stood up, gathering his belongings.
"I hope you get number three," said Myung, referencing the fact that Danzer had won two bracelets already this summer.
"I hope he doesn't!" said Gavin Smith with a laugh. "He's had enough already!"
"Just to get Player of the Year!" said Danzer. "Because if you get Player of the Year, they put your f**king face up there on the wall! Mohawk and everything!"
This was met with laughter all around as Danzer made his exit from the table. Myung stacked his new chips and now sits around 10,000.