Ladies Championship Final Table Set; Aoki Leads
Nivel 19 : 4,000-8,000, 1,000 ante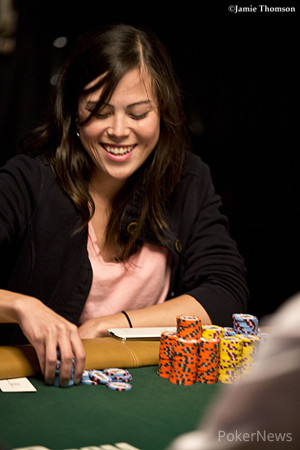 The final table is set in Event #53: $10,000 Ladies No-Limit Hold'em Championship. The clock has been paused and the remaining nine ladies have bagged and tagged their chips for the night.
Taking the chip lead into the final table is Mikiyo Aoki with 742,000. Aoki is followed by Meikat Siu (460,000) and Haixia Zhang (311,000). Here is how the ladies stack up heading into Day 3:
| Seat | Player | Chip Count |
| --- | --- | --- |
| 1 | Persia Bonella | 128,000 |
| 2 | Meikat Siu | 460,000 |
| 3 | Elizabeth Montizanti | 184,000 |
| 4 | Stacey Sullivan | 64,000 |
| 5 | Pat Landis | 219,000 |
| 6 | Haixia Zhang | 311,000 |
| 7 | Patricia Cahill | 66,000 |
| 8 | Mikiyo Aoki | 742,000 |
| 9 | Kendra Wray | 214,000 |
Aoki went pretty much wire to wire with the chip lead on Day 2 and was an elimination machine. Aoki only has $2,109 in recorded live tournament cashes. With the $11,504 now guaranteed to the final-tablists, Aoki will smash her current earnings. Here are some of her biggest hands of the day:
With the flop reading , Aoki bet out 30,000 and Montizanti called. The turn was the and Aoki dropper her bet size to 20,000, which Montizanti also called. The river card was the and Aoki slid out 40,000. Montizanti made the fold and confessed she had a flush draw. Aoki turned over two black tens — — for flopped top set and turned full house. "Glad I didn't hit my flush," Montizanti said.
We missed the action as there were two all ins on the final two tables but witnessed Charlet Molique standing up from the table and Mikiyo Aoki stacking up chips.

Molique had and was tabled in front of Aoki. The board read and Molique was sent to the payout booth.
Karen Cameron knew she had to make a move with her short stack and she had no fear doing so. In the big blind, she pushed all in for 74,000 after chip-leading Mikiyo Aoki raised to 25,000 from the small blind. Aoki took a minute before deciding to fold. Cameron turned over her cards — — to look at them for the first time.
"I didn't look," she explained.
"What? I had you crushed. I totally would've called if I knew you didn't even look at your cards."

A few hands later, it was Aoki and Cameron battling it out again. Aoki raised to 20,000 and Cameron pushed 120,000 all in. Action folded back around to Aoki and she tank-called.

Cameron:
Aoki:

The board ran out and Aoki had the better boat with kings full of sixes. Cameron was eliminated in 10th place.
Day 2 began with 101 hopefuls and the money bubble looming at 81. It took only half of the first level of the day to have the bubble burst. There was a bit of consolation for the "bubble girl" or, in this instance, "bubble girls", as both Janice Nguyen and Cassandra Johnson busted on the second hand of hand-for-hand play. Both would share the title and the split the first payout.
Professional poker player Xuan Liu made a deep run on Day 2 but was eliminated in 11th place. Other notable ladies making deep runs were Melanie Weisner, Janis Numan, Randi Rusnell, Gwendoline Laurent, Tatiana Barausova, Cherish Andrews, and Christina Lindley.
Play will resume at 1 p.m. on Sunday in the Amazon room, where the remaining ladies will battle for World Series of Poker gold, glory, and a $153,470 first-place prize. Thank you for following along today and keep it locked on PokerNews for hand-by-hand coverage of the final table.