Final Table Interview: Mikiyo Aoki
Nivel 21 : 6,000-12,000, 2,000 ante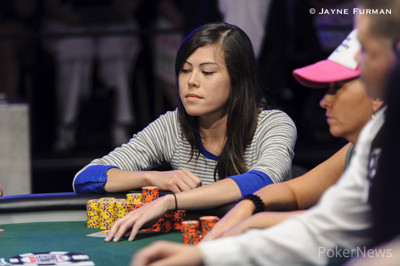 Bozeman, Montana's Mikiyo Aoki came into the WSOP Ladies Championship final table with the chip lead. And although things haven't exactly gone her way in the early going, this digital marketing professional and poker amateur is still near the top of the chip counts.
There's a sizable crowd and a rather electric atmosphere around the table today, and PokerNews decided to chat with Aoki to get a sense of what her experience has been like so far in this latest Final Table Interview.
PokerNews: It's really an exciting atmosphere here at the final table. How has your experience been so far?
It's so much fun. Last year I played in the [Casino Employees] event, but this is really my first World Series of Poker event. I didn't really have any expectations coming in, so making it here is really exciting. It's awesome… whatever happens, I'm pretty thrilled.
PokerNews: You came in with the chip lead, but doubled up a few short stacks so far. How are things going?
It's been pretty rough. I called with queens versus [Patricia Cahill's] low ace early on and hit trip queens, but it came runner-runner to give her a straight. Then here I hit the flush but [Elizabeth Montizanti] hit a full house. It has been a little frustrating, but I'm trying to be patient and pick good spots and hopefully build it back up.
PokerNews: There's one small cash on your record to this point. What's your history with the game of poker?
I started pretty young. I have a brother who is a year older than me and I would always play in little five-dollar home games when we were kids growing up. Since then I've played a bit of cash games, a few tournaments, but nothing this big for sure.
PokerNews: There's often a lot of camaraderie in the WSOP Ladies Championship. Has that been your experience so far?
I noticed that too. I don't think I've played against a single player that didn't have a great attitude. Everyone has been so sweet. I definitely agree there's been a lot of camaraderie. When someone gets knocked out everyone is always giving her hugs because we've all kind of bonded coming to this final stage.
PokerNews: Here at this final stage you are on the live stream, under the lights, and a big crowd is watching. Is it nerve-wracking?
Now that I'm here it's easy to focus, but I didn't get a lot of sleep last night, that's for sure. It's definitely exciting.
PokerNews: So what's your plan going forward?
To try to be patient, pick good spots, and hopefully regain the chip lead at some point.