Nivel 27 : 25,000/50,000, 5,000 ante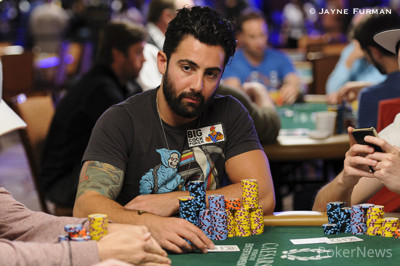 Before poker became the stomping ground of celebrities known more for pimping patches than playing cards, the glamorous game seen on television today was an underworld affair where hustlers plied their trade behind closed doors. And while knowing the odds and reading one's man made poker more than a mere gamble for the best in the business, the long arm of the law and short-tempered suckers packing pistols made that hustle a harrowing experience nonetheless. Most players today consider the rough and tumble days of the Texas road gambler to be nothing but a bygone era in poker history, but for brothers Aaron and Ralph Massey, becoming poker pros was only natural. After all, hustling is in their blood...
...
Aaron made good on another promise as well, three years after boldly telling PokerNews that he would one day become a "poker star." Named as one of seven "Ones to Watch" for Season XII of the WPT, Aaron was tabbed as one of poker's up-and-coming young guns, with the spotlight he has sought since becoming a pro finally focused where he always believed it belonged. And although Aaron's run through Season XII failed to deliver any significant results, he has already moved on to set his sights on another goal: Snagging his first WSOP bracelet this summer...
You can read the rest of Aaron's story from the streets to the World Series of Poker spotlight here.