Colman Stays Silent And Takes Down a Big One
Nivel 4 : 6,000/12,000, 2,000 ante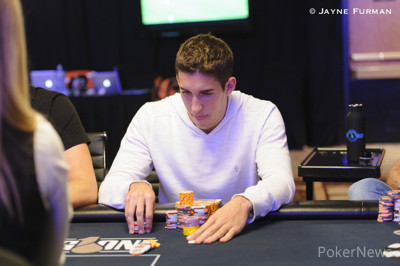 Daniel Colman raised from the cutoff to 28,000 and Tobias Reinkemeier three-bet from the small blind to 100,000. Colman four-bet to 230,000 shortly after the German's three-bet, and Reinkemeier tanked for a bit before making the call.
The flop came down



and Reinkemeier checked to Colman who bet 185,000 and his opponent called.
On the turn the

hit and Reinkeiemer tapped the table again. Colman stared at his chips for a while before ultimately putting in a bet of 375,000. Reinkemeier made the call and the dealer put the

on the river.
Reinkemeier checked a third time and Colman paused for 30 seconds before tossing out a bet of 600,000 chips.
"Six-hundred 'K,'" Reinkemeier said, and after a short pause he added, "Big pot, huh?"
Colman stared motionless towards the table while Reinkeimer tanked.
"Spread it," Reinkemeier told the dealer, who spread the pot as the tanking continued. "What do you want me to do, do you want me to call? Should I fold? You're not even talking, huh?"
Doug Polk started laughing and said, "Now you're talking, huh?" to Reinkemeier.
"Stay out of it," Reinkemeier smiled, before eventually letting go of his hand.
"This would be a great time to show a bluff," Jason Mercier said, but Colman mucked his hand.
"Bluffing?" Reinkemeier tried once more, but Colman's cards were mucked and he took down this huge pot.