Hands #7-10: Watson Wins a Few
Nivel 27 : 12,000-24,000, 4,000 ante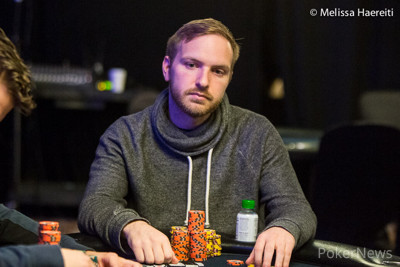 Hand #7: Mike Watson opened to 60,000 holding the button and Jared Jaffee flatted to see the flop come



. Jaffee then check-called a bet of 65,000, and both players tapped the table on the

turn. When the

arrived on the river Watson checked to Jaffee, who bet 130,000 to take the pot down.
Hand #8: Watson went for a walk in the big blind.
Hand #9: Watson opened to 60,000 and Jaffee called to see the



flop. Both players checked through and the turn came

, upon which Watson fired out 77,000 to force the fold.
Hand #10: Jaffee tossed out enough chips for a 40,000 raise — but the minimum raise for this level is 48,000. After the dealer corrected his action Jaffee was forced to commit an additional 8,000, with Watson flatting to see the



flop. Watson then check-folded to Jaffee's 59,000 c-bet.