No Comeback For Negreanu
Nivel 11 : 1,200/2,400, 300 ante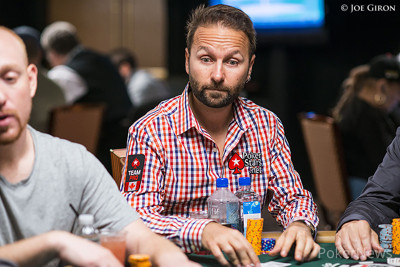 After finishing second in the "Big One for One Drop." Daniel Negreanu hopped into this tournament late last night. A few pots towards the end left him crippled and he started today with very little chips.
Just now Negreanu raised on third street and Dan Shak was his only opponent left to chase out. Shak looked long and hard at his hole cards before making the call. On fourth Shak paired up and bet, and Negreanu moved all in for 3,100 total. Shak called, and the cards ran out as follows:
Negreanu:


/




/


Shak:


/




/

On sixth street Shak hit three of a kind and Negreanu was in need of hitting a jack on seventh. Negreanu squeezed his card and said, "It's paint. It's a club! Three jacks!" — then he turned over the

.
Shak was extremely confused and thought he had lost, but Negreanu was just messing around. When Negreanu stood up and left Shak realized he had won the hand and said, "Oh man, I'm just way too tired."
Negreanu hit the rail and Shak sits on quite a comfortable stack.