Event #7: $1,500 Seven-Card Razz
Zilele: 1
Event #7: $1,500 Seven-Card Razz
Ziua 1 început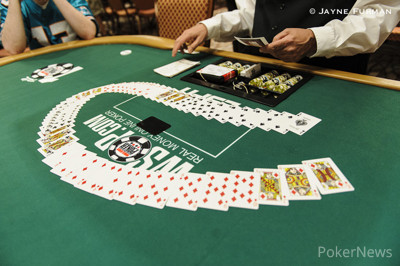 The 2014 World Series of Poker continues today with the start of Event #7: $1,500 Seven-Card Razz, the first of two razz events this summer. In recent years only one razz tournament graced the calendar, and it featured a $2,500 buy-in. Now, aficionados of the game can enjoy it twice if they so choose, first with today's $1,500 buy-in and from June 6-8 in Event #18: $10,000 Seven-Card Razz Championship.
Last year's $2,500 buy-in tournament attracted 301 players and was won by Bryan Campanello, who defeated David Bach in heads-up play to capture the $178,052 first-place prize. What's more, Campanello showed that a young player could compete in what has traditionally been known as an older person's game.
Among those who will be in action today are Matt Smith, who will be playing his first WSOP bracelet of the summer, November Niner Steve Gee, and Chris "Fox" Wallace who cut his chops playing online high-stakes razz. Of course others have stated their intentions of playing if they bust Event #6: $1,500 No-Limit Hold'em Shootout, including European Poker Tour Season 8 Grand Final champ Mohsin Charania and the 2012 WSOP razz champ Phil Hellmuth, who won his 12th bracelet that year.
Cards are scheduled to get in the air at 4 p.m. local time, which is less than an hour from now. The plan is to play ten one-hour levels, which will take us into the early morning hours of Saturday.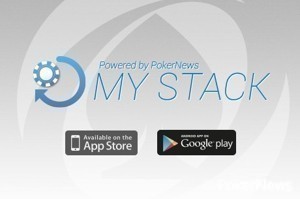 The PokerNews MyStack App is available for players to use for free throughout the World Series Of Poker, allowing anyone in an event to update their chip count directly on the PokerNews Live Reporting page for their friends and family to see.
You can download the app for iPhone or Android now to get started. Then create a new PokerNews account or update your current one to start updating your status immediately.
Be forewarned, however, any abuse of the app will result in account suspension or termination.
Nivel: 1
Limite: 50/100
Ante: 75 (button)
Nivel 1 : 50/100, 75 ante
Jucător
Fise
Progres

Frankie O'Dell

4,500

4,500

Tom McEvoy

4,500

4,500

Marco Johnson

4,500

4,500

Ted Lawson

4,500

4,500

John Monnette

4,500

4,500

Steve Gee

4,500

4,500

Matt Kelly

4,500

4,500

Mike Leah

4,500

4,500

Scott Clements

4,500

4,500

Ed Brogdan

4,500

4,500

Rep Porter

4,500

Jeff Lisandro

4,500

4,500

Jesse Martin

4,500

4,500

Ali Eslami

4,500

4,500

Chris"Fox" Wallace

4,500

4,500
Nivel 1 : 50/100, 75 ante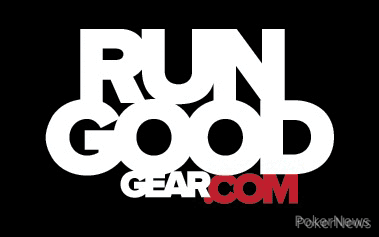 Need some poker swag?
There's a brand new batch of RunGoodGear products available, including the new RunGood Cardbox T-shirts, spaded hoodies and a newly added section just for women, like RunGood Pros Lauren Kling, Katie Dozier, and Amanda Baker.
PokerNews fans can grab some RunGoodGear on a discount during the World Series of Poker. Simply use the promo code "pokernews" for your next order and receive 10% off. That's right! Type "pokernews" into the promo code box and 10% of your order goes right back into your bankroll.
For more information — or if you want to check out some of the new swag available — check out RunGoodGear.com.
Nivel 1 : 50/100, 75 ante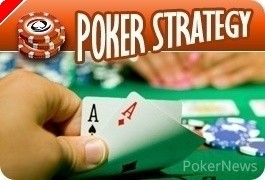 Razz isn't the most popular of games, so there is a chance you don't know the rules. If you find yourself in that camp, fret not as we have dug back in the PokerNews archives to find a tutorial to catch you up in this game, which is sometimes called Seven-Card Stud Low.
Betting rounds
In razz every player starts with getting dealt three cards. Before receiving the cards, every player in the hand has to post an ante. In a $0.50/$1 razz game, the ante is usually $0.05, although this can vary. In all other examples in this article it will be also assumed that we're playing limits of $0.50/$1. After posting the ante, every player gets dealt three cards. The first two cards are dealt face down and can only be seen by you, while the third card, called the "door card" is dealt open for every player at the table to see.
The player with the highest door card is forced to pay the "bring-in." The bring-in in a $0.50/$1 game is half of the low-limit bet (in this case $0.25). However, the player also has the option to bring-in a complete bet, which is the full low-limit bet (in this case $0.50). All other bets and raises in the first round, also called third street, will be the size of the low-limit bet.
In all following rounds, the player with the lowest open cards starts the betting. If more than one player has the same combination of low cards, the player closest left of the dealer will start the betting. On fourth street, the next betting round, again all bets and raises will be the size of the low-limit bet. On fifth, sixth, and seventh streets, all bets and raises will be the size of the high-limit bet.
If the action continues all the way to seventh street, a player will have received seven cards at this point. Of these seven cards, the first two and the last one are face down, while four cards are facing up for everyone to see.
Hand Values
The lowest hand wins the pot at showdown. Aces count as the lowest cards in razz. The lowest possible combination of cards, the nuts, is A-2-3-4-5. Flushes and straights don't count. When deciding on who starts the betting on and after fourth street, the lowest hand is first to bet. On fourth street the lowest possible hand is X-X-A-2. A hand like X-X-A-K will also "win" here against a hand like X-X-2-2.
When deciding who has the best showdown hand, you start by looking at the third highest card in your hand (as you only play five of your seven cards and the two highest cards don't play) and start counting down. For example, a hand like 9-8-7-6-5 will win against a hand like 10-4-3-2-A, as the nine is lower than the ten. If the highest cards of two or more players have the same value, you look at the second highest cards and so on. So 8-7-5-3-A will win against 8-7-5-4-A, because one player has a 8-7-5-3 low against the other player with a 8-7-5-4 low. If two or more players have the exact same combination of cards, the pot is split.
Nivel 1 : 50/100, 75 ante
Jucător
Fise
Progres

John Cernuto

4,500

Mike Watson

4,500

Frank Kassela

4,500

Aaron Stuery

4,500

Matt Vengrin

4,500

Bryan Campanello

4,500

Perry Friedman

4,500

Brock Parker

4,500

Jean Gaspard

4,500

Jordan Siegel

4,500

Daniel Idema

4,500

Roland Israelashvili

4,500

Cyndy Violette

4,500
Nivel 1 : 50/100, 75 ante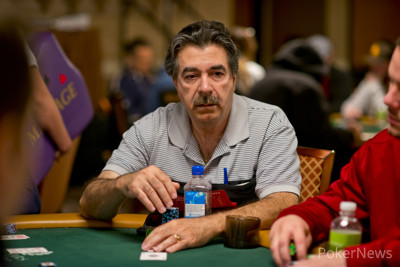 The 2014 World Series of Poker marks the 25th anniversary of Phil Hellmuth winning the Main Event. Everyone knows that he defeated Johnny Chan in heads-up play to keep the "Orient Express" from winning his third Main Event in a row, but do you know who came in third?
That would be Don Zewin, who actually finished runner-up to Hellmuth in this very event back in 2012 when the "Poker Brat" won his 12th bracelet.
"It was exciting, but when the end result isn't first place, it's just a huge letdown," Zewin previously told PokerNews in an interview. "Everybody was aware Johnny Chan was going for his third title in a row, but I was really tuned in that year, and I wasn't intimidated at all. When you get that deep in that particular tournament, you're just tuned in and nothing is really going to rile you."
The 2014 WSOP also marks the 25th anniversary of Frank Henderson's one and only bracelet win. It was at the 20th Annual World Series of Poker that he took down Event #4 $2,500 Pot Limit Omaha w/ rebuys for $184,000. All told the former electrical engineer has amassed 36 cashes for $825,076.
Both Zewin and Henderson are in action today and seated at the same table along with Marco Johnson, who won a gold bracelet last year.
In a recent hand, a player brought it in with a

and Zewin raised to 50 showing a

. Henderson then made it 100 with a

, Johnson called showing a

, and player that brought it in folded. Zewin called and three players went off to fourth street.
Zewin:




/ (



)
Henderson:

/




/


Johnson: (x-x) /



fold
Henderson bet 50 on fourth, both his opponents called, and then a bet followed on fifth. Again both Johnson and Zewin called, and then Henderson bet 100 on sixth. Johnson folded, Zewin called, and Henderson bet another 100 in the dark, which Zewin called without hesitation.
Henderson showed that he had a seven-five low, which beat Zewin's seven-six low.
"I was drawing dead," Zewin said. Indeed he had been.
Nivel: 2
Limite: 75/150
Ante: 25