Interview: Maurice "The Hawk" Hawkins Soars to Milly Maker Final Table
Nivel 29 : 40,000/80,000, 10,000 ante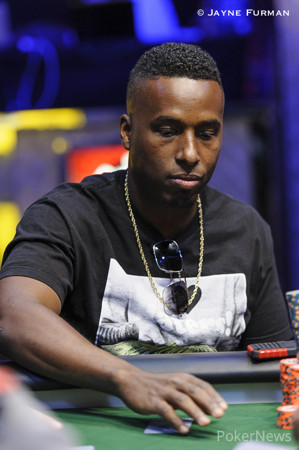 Any table featuring the brash and boisterous Maurice "Mo" Hawkins is sure to be a fun-filled affair. One of the most affable and genuine players in poker away from the table, Hawkins is known for getting under his opponents' skin when the cards are in the air, and he has become a polarizing figure capable of earning enmity or affection every time he opens his mouth.
PokerNews' Jon Zaun caught up with Hawkins before the start of play today to discuss his appearance at one of the most coveted final tables at the 2014 World Series of Poker.
PokerNews: Mo, you're finally here on the WSOP final table stage for the Millionaire Maker, so how do you feel?
Maurice Hawkins: I feel wonderful. Like a winner... I feel good. I couldn't sleep last night. For the first time I actually had jitters, which is strange, but I think it's because I really wanted to get to a WSOP final table. It's more like a résumé builder, and I just feel really good about finally accomplishing that. This is my first time here, so basically, now I just have to win. Because when I get to final tables I win, therefore I just got to keep doing what I do.
You're entering the final seventh out of nine in terms of chips, but you've found yourself in this spot before, coming in sixth out of nine at the Palm Beach Kennel Club Circuit Main Event you recently won. How does the chip disadvantage affect you're play?
It doesn't mean much to me — chips don't mean anything. I just let them make mistakes and try to capitalize, and hopefully at the end of it I get heads up and then I crush. Because once I'm heads up, it's mine.
PokerNews: That's the kind of comment that seems to generate the hate from people who don't know if you're joking or jabbing, so back to those doubters we talked about earlier. Why do you think fellow pros seem to have such a diverse range of opinions on you as a player and as a person?
I'm not sure, but I think back to an exchange with a player I had in New Orleans, I asked, "Why does he hate so much, what is it with his animosity?" And he looked at me and said, "Oh it's because you're a goon." See that's his problem though — he was pontificating like he was coming from a different level instead of just admiring and respecting everybody's game. I was one of his biggest fans, and instead he chose to go the opposite route and dislike me because he doesn't understand me. So that's what I say to them, just don't hate what you don't understand.
To read the full interview, check out the article at PokerNews.com.