Jason Simon Becomes The First Gladiator of Poker for $499,852
Nivel 47 : Blinds 6,000,000/12,000,000, 12,000,000 ante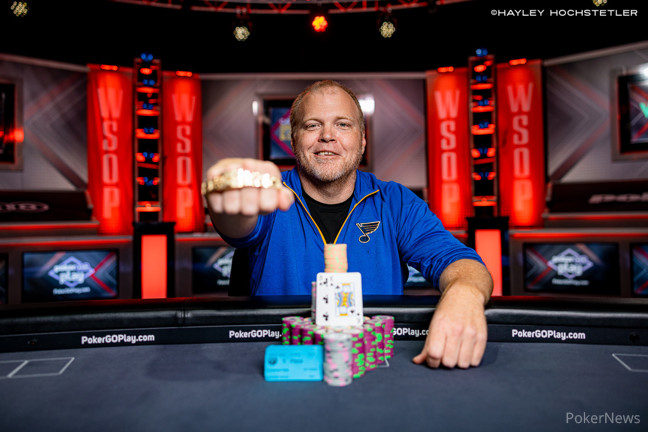 After four starting flights, a whopping 23,088 entries were tallied for the inaugural Event #18: $300 Gladiators of Poker, which was the most affordable live event in the history of the WSOP and smashed the guarantee to create a massive prize pool of $3,603,162 to play for on the second day.
Only 827 warriors made it to the second day which saw the number tick down to just 14 contenders for the final day to return. After the dust settled, one stood above the rest.
St. Louis' own Jason Simon was crowned the victor for his first WSOP bracelet and career best score of $499,852. Starting the day as fourth in chips, Simon navigated a final day filled with highs and lows to take down the bracelet and supported by a rail filled with friends and family the whole time.
"It was awesome," the first gladiator of poker said. "Having your friends here with you, cheering for you in the all ins, it definitely helps." Simon's rail also made light of his nickname "The Chisler," which was a nickname that he got based on how others interpreted his playing style. Little did they know he would chisel his name into WSOP history winning the second biggest tournament field of all time.
"Your tournament life is so valuable, you have to stay alive no matter what," the new champion continued in reference to swings yesterday. "When I fell down to 14 million, I never really panicked, found a double up and went up from there."
Simon's biggest lifetime cash, now will more than triple his lifetime earnings. "I primarily play mixed games, mostly play No-Limit Hold'em only for tournaments, but maybe I'll play some more tournaments after this."
The newly minted champion headed off to celebrate with his St. Louis rail at the conclusion of this tournament.
Final Table Results
| Place | Player | Country | Prize |
| --- | --- | --- | --- |
| 1 | Jason Simon | United States | $499,852 |
| 2 | Eric Trexler | United States | $301,097 |
| 3 | Wesley Cannon | United States | $210,024 |
| 4 | Wade Wallace | United States | $160,818 |
| 5 | Kfir Nahum | Israel | $123,831 |
| 6 | Bohdan Slyvinskyi | United States | $95,883 |
| 7 | Jonson Chatterley | United States | $74,664 |
| 8 | Caio Sobral | Brazil | $58,466 |
| 9 | Thomas Reeves | United States | $46,051 |
Final Day Action
It took under two hours to bring the field of 14 down to the final ten. Joshua Rothberg (14th-$23,298), Salvatore Boi (13th-$29,068), and Willie Smith ($29,068) all fell before the setting of the table.
The last player to depart the field was Tim Williams, who got in his final chips with ace-king against Wade Wallace who raised with pocket fives. Wallace called with the pocket fives and held up, leaving Williams to depart the tournament in eleventh place for $36,487.
Final Table Action
The remaining ten players redraw for the final and play began quickly. One of the start of day chip leaders Caio Sobral was rendered to the short stack early on in the day, and seemed to be the first out the door. He got in his final chips with king-jack against Duc Bien Nguyen's queens. A king on the turn flipped the script and gave Sobral an early final table double up and left Nguyen on the short stack.
Nguyen got in his final chips with king-jack up against Eric Trexler's nine-eight. A jack high flop came out which gave Nguyen top pair, but Trexler flopped a straight and held to retake the tournament chip lead, while Nguyen left the tournament in tenth place for $36,487.
Thomas Reeves started the day as the second shortest stack in the room, but through careful maneuvering and timing he was able to ladder up to the official final table. He did secure one double up early into the final table, but shortly after he moved in his final chips over Trexler's raise with king queen and Trexler called with ace nine and held. Reeves wished his tablemates luck and he exited the tournament in ninth place for $46,051.
Sobral would be the next to depart with an eighth place finish worth $58,466. Despite an early double, Sobral found himself rather shallow once more and moved in his final chips with ace jack. Wallace woke up with ace king and called to hold and eliminate the brazilian from the tournament.
Jonson Chatterley was rendered the short stack after the first few levels of play and he was not able to gain any momentum as the tournament progressed. With seven players left, he moved in his final chips with ace-queen while Simon called with jacks and held up for Simon to take a massive pot and Chatterley to exit the tournament in seventh place for $74,664.
The following elimination saw an explosion on Wexler's rail dubbed "Team Torch." Bohdan Slyvinskyi moved in his final chips with ace king while Wexler called in the big blind with pocket nines. The flop rolled out king-high and all seemed set for Slyvinskyi to double up, until the river rolled off a nine to give Wexler a set of nines and the rail went berserk while Slyvinskyi collected $95,883 for his sixth place.
Kfir Nahum opened with king-queen and called an all in from Simon who held ace-king for extremely similar chip stacks. No help was brought to Nahum and he collected $123,831 for his fifth place finish.
The four handed battle commenced as each of the final four held the lead at some point or another. Multiple all in pots saw doubles for multiple players and a few chop pots ensured the continuing of the fight. It would be the Ohio native Wallace who would drop next as he moved in his final chips over a raise from Trexler with ace-ten, only for Simon to wake up in the big blind with pocket kings. The kings held up and "The boss with the sauce" was consoled by his supportive rail for a career best finish of $160,818.
Wesley Cannon started the day on the bottom half of the chip counts, but the Minnesota resident found himself laddering up as the day went on and even taking the chip lead for a short while four handed. His run came to an end as Simon moved all in from the small blind with queen nine and Cannon called in the big blind with king eight. A nine on the turn would put Simon in the lead and the river landed a blank for Simon to secure an even larger lead heads up while Cannon exited the tournament in third place for $210,024.
Heads up did not last too long as Simon held a 4:1 lead at the beginning. Trexler did manage to narrow the gap, but in the end Simon moved all in with king eight for roughly ten big blinds and Trexler drew a line in the sand and called with jack ten suited. Some chop outs presented themselves on the turn, but the river brought no change and Trexler finished his run in second place for a career best $301,097.
Congratulations to Jason Simon for being crowned the first Gladiator of poker in Event #18: Gladiator of Poker. Thank you to all who entered and thanks for reading along at PokerNews. Stay tuned for all updates regarding the 2023 WSOP.