Online Event #1: $333 No-Limit Hold'em Triple Treys Summer Tip Off
Zilele: 1
Online Event #1: $333 No-Limit Hold'em Triple Treys Summer Tip Off
Ziua 1 început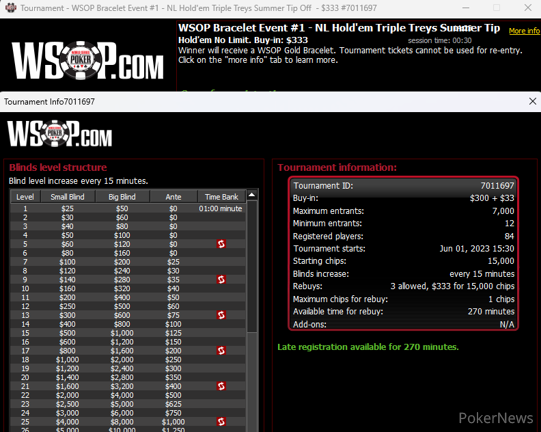 Welcome to the first WSOP.com online bracelet event of the 2023 World Series of Poker. The action kicks off at 3:30 p.m. Pacific Time with Online Bracelet Event #1: $333 No-Limit Hold'em Triple Treys Summer Tip Off.
A total of 20 online bracelets will be won by WSOP.com players in Nevada and New Jersey between June 1 and July 16 in addition to the 95 live event bracelets that will be awarded at Horseshoe and Paris Las Vegas. Players in Pennsylvania and Michigan will also have seven online bracelet events.
In addition to being the first event of the online schedule, this tournament also has the smallest buy-in of the entire online series. There were no events at this buy-in amount last year. In 2021, Michael "njnj17" Leib took down $81,644.94 and a coveted gold bracelet by finishing first in Event #10: $333 No-Limit Hold'em.
Players begin with 15,000 chips and will play 15-minute levels starting with blinds at 25/50 with no ante. Three rebuys are allowed, and late registration will last until 8 p.m. Pacific Time. There will be a 5-minute break at 55 minutes past each hour.
2006 Main Event winner Jamie Gold took to Twitter to express his excitement at simultaneously playing live and online bracelet events:
I'm so excited here day 1 of the biggest @wsop series ever , my first time playing live in 4 years since covid time… https://t.co/qNYefVMR4g

— Jamie Gold (@RealJamieGold)
As of one hour prior to starting, 84 players have registered, including Adrian "Poker4202" Mateos, Jeremy "devilscup_19" Joseph, and Russel "Tommy_Nubs" Mcclean.
PokerNews will be providing continuous coverage of this event from the opening deal until the bracelet has been won.
Nivel: 1
Blinduri: 25/50
Ante: 0
Nivel 1 : Blinds 25/50, 0 ante
Play is officially underway! 275 players are all looking to capture the first WSOP online bracelet of the year.
Nivel 1 : Blinds 25/50, 0 ante
Jucător
Fise
Progres

Craig "imgrinding" Varnell

15,000

15,000

David "ImdeboGodz" Dibernardi

15,000

15,000

Davide "drogonzizi" Suriano

15,000

15,000

Denise "Dprx1" Pratt

15,000

15,000

Heather "Blondy23" Alcorn

15,000

15,000

Jason "jdar13" Darland

15,000

15,000
Nivel: 2
Blinduri: 30/60
Ante: 0
Nivel 2 : Blinds 30/60, 0 ante
After a preflop raise to 135 from "La_BaMBa914" from the hijack met with two callers, Robert "Binkwen" Nelson reraised to 810 from the big blind. Only Jake "SamPanzica" Schwartz called from the small blind.
Schwartz check-called Nelson's 825 bet on the K♦8♣6♠ flop. Both players checked the J♣ turn.
The river brought the 4♦. Schwartz bet 5500 and Nelson immediately called. Schwartz showed 7♠5♠ and took down the pot with a straight.
Nivel 2 : Blinds 30/60, 0 ante
Players have gone on a five-minute break.
531 players have now registered for the opening Online Bracelet event. Registration will remain open for four more hours.
Nivel 2 : Blinds 30/60, 0 ante
Tyler "DrTyrel" Huculak raised to 150 preflop from the cutoff. He was called by both Josh "typeoftime" Bergman from the small blind and James "bagelbud" Lillis from the big blind.
After nobody bet the 9♠K♠A♣ flop and 7♠ turn, Bergman bet 337 on the 7♠ river. Both players folded, and Bergman took down the pot.