Double or Nothing For Tony G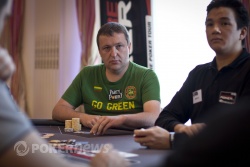 The board shows 68 players remaining, and everyone in the room is doing some bubble sweating right now. One man is sweating a little harder than the rest, though. Tony G has €20,000 riding on making the money, and at 5:1 odds, a mini-cash is essentially worth almost as much as seventh place to him! All that didn't stop him from getting his chips in just a couple spots from the money.
It happened on the turn of a



board. With just about 60,000 in the pot, Tony G shoved in for 131,000 total. And he got called! Tom Bedell clearly hasn't been reading PokerNews lately, or he might have been able to lay down his

. But he couldn't, and he was drawing dead as soon as his chips crossed the betting line. Tony G showed up the unbeatable


.
The river was a meaningless

, and Tony G has found his bubble double. We've got him right on 300,000 chips now.
"Bring the chips, bring the Russians, bring Zasko. I'm the table captain now." After the hand, Tony ordered a slice of chocolate cake, an American coffee, and a cigar. It's nearly time to celebrate.